WE HAVE HUNDREDS OF GREAT REVIEWS FROM OUR CLIENTS!
Click the button on the right to read what people say about working with Maher & Maher Law.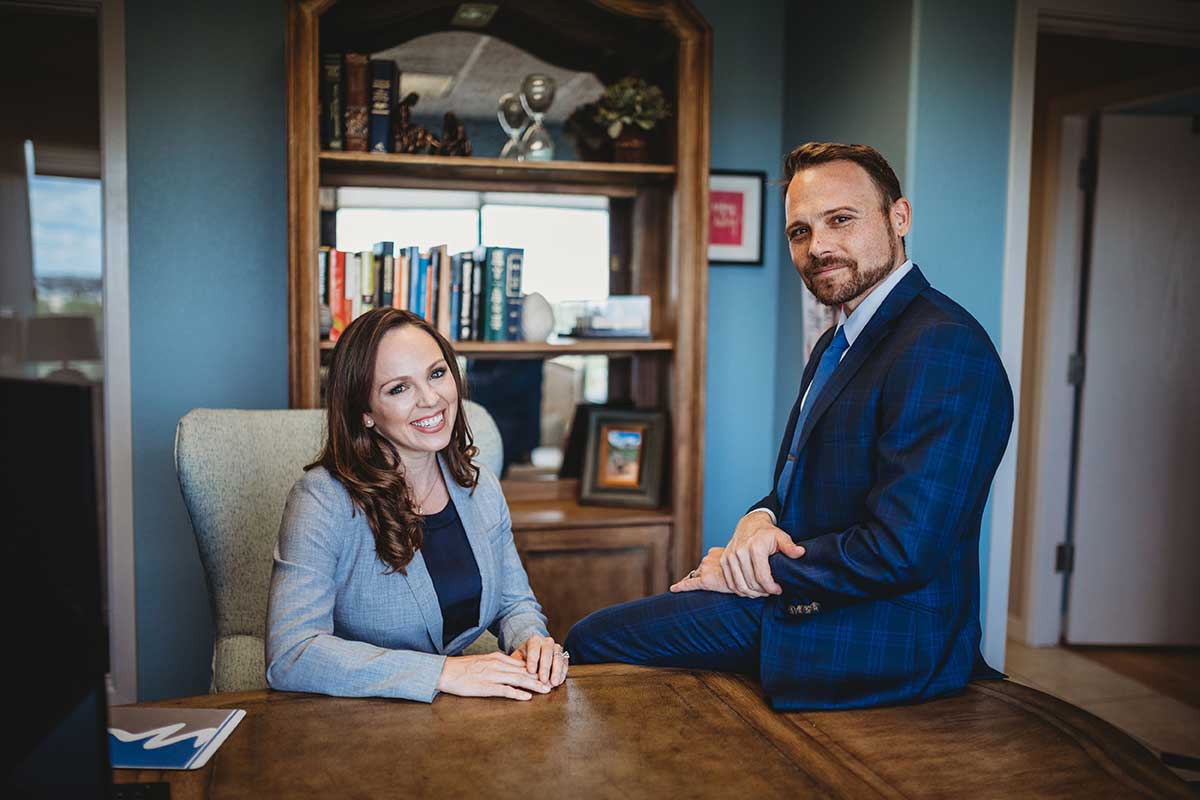 GET THE HELP YOU NEED & THE JUSTICE YOU DESERVE
JUSTICE WITH INTEGRITY. The Colorado Springs personal injury and criminal defense lawyers at Maher & Maher Law, PC will fight for your rights so you can get back to living your life. We know that an injury or a criminal charge can be a major disruption. You need a team of attorneys to help you understand the many stages of a case, advocate on your behalf, and make sure that you receive the best possible outcome under the law. As experienced trial attorneys, we can knowledgeably recognize if your case needs to go before jury to get the justice you deserve. If that's the case, we are fearless trial advocates in the courtroom and will aggressively fight for justice with integrity.
CUSTOM-TAILORED ADVOCACY. We understand trust is everything. With our firm, you can expect client-focused representation on your matter. We provide our clients with personal attention at reasonable rates so you are able to work directly with your lawyers throughout the entire process. We know the importance of putting your case in trustworthy hands and we are humbled and serious about making sure your case receives the attention and focus it deserves.
A RECORD OF SUCCESS. We provide diligent legal representation to all our clients but at the end of the day, we realize it's the results that matter. Our firm is proud of our record of success in both personal injury and criminal defense matters. We have a reputation for taking on some of the most difficult cases. We know how to win. We are the attorneys you want on your side. Our results speak for themselves. And just as important is client satisfaction, read our reviews to see what people just like you who hired Maher & Maher Law think!
Contact Us Today!
Call: 719-301-7500 | Email: info@maherandmaherlaw.com
MEET THE MAHERS
Maher & Maher Law, PC is located on the North side of Colorado Springs for your convenience. Our attorneys are former prosecutors each served as Deputy District Attorneys for five years in El Paso County.
As prosecutors, Joe and Kim learned the ins and outs of the criminal judicial system. They prosecuted everything from traffic offenses to murder cases. Both Joe and Kim served on the vehicular homicide team. They are a rare husband and wife legal team.
Joe and Kim both attended the University of Denver Sturm College of Law but met when serving as criminal prosecutors at the El Paso County District Attorneys office. Their dream of opening a practice together became a reality after their first son was born. They are both passionate about representing people within the Colorado Springs community they live and raise their children in.
Our clients consistently remark that having a male/female legal team on their side provides and intangible difference they never knew could be so impactful to their case – whether its in negotiations, witness interviews and depositions, court appearances, or trial, this flexibility allows us to select the right attorney for the specific job.
As a seasoned legal team with experience handling many types of legal cases, we know what tactics to use to succeed for our clients. We truly care about every client we represent, because we want to help them get back on their feet. As skilled trial lawyers, we are not afraid to go toe-to-toe with the government or an insurance company in the courtroom. Don't just take it from us, ask the clients who were in your position and hired us!
Contact Us Today!
Call: 719-301-7500 | Email: info@maherandmaherlaw.com
DUI & CRIMINAL DEFENSE
Defending the Accused
Criminal charges can carry serious consequences and ramifications to your life, your family, and your future. Do you have to report the arrest to your employer? Will you lose your drivers license? Will this affect how often you get to see your kids? And of course, will you have to go to jail? All of these are important serious considerations.
AGGRESSIVE ADVOCACY.
As former prosecutors in Colorado Springs, our attorneys are intimately familiar with criminal cases from all angles. They are qualified to spot legal and factual inconsistencies in cases that can be the difference between a conviction and a dismissal of all charges. From writing, filing, and arguing constitutional motions to challenging the probable cause for your arrest, and negotiating the factual and legal merits with the district attorney, we are always working towards the ultimate goal of a dismissal in your case.
Sometimes, the only way to achieve that goal is to take the case to trial. Our attorneys thrive in the courtroom and will handle all of your court appearances, so you don't have to worry about saying the wrong thing or not knowing what's happening when you are in front of the judge. We pride ourselves on always being the team that knows your case better than anyone else in the courtroom. That unparalleled understanding of you and your case combined with our extensive experience in criminal law, allows us to get the best possible outcome and to protect your future.
WE ARE THE HELP YOU NEED. Just because the accusations have been brought against you, does not mean you have to stand by and let others decide your fate. Our attorneys will fight for you and your rights and will ensure you get the best possible outcome in your case.
We understand that this may be the first time you've ever been faced with this extraordinary set of circumstances and you may not know what to do next or who to turn to. We share the goal of getting your life back to normal as quickly as possible. Let us help you navigate the complex legal process, its what we do everyday for people just like you.
PERSONAL INJURY
Fighting for the Injured
Injuries happen. Whether it's on the road, in the home, or at a place of business, you can be injured through no fault of your own. When that happens, you need a Colorado Springs personal injury lawyer on your side. The skilled attorneys of Maher & Maher Law are the right choice for you. An injury that is caused by someone else may warrant a personal injury claim. We will fight to get you the compensation you deserve. Our clients deserve fair and full compensation. We won't settle for less.
AGGRESSIVE ADVOCACY.
Car and motorcycle accidents happen in an instant, but the injuries can last a lifetime. As Colorado Springs car accident lawyers, we have the experience to handling your case from start to finish. We know how USAA, Allstate, State Farm, American Family, Progressive, Farmers, GEICO, Travelers, AAA, Farm Bureau, and other insurance companies work to delay, deny and aggressively and unnecessarily "defend" themselves against your injury claim.
Our attorneys know how important your case is to you and your family. We are not a high-volume, TV advertising firm. We only take a limited number of cases so that we can give each case the attention it deserves. We are not afraid to try your case, and we prepare all of our cases as if they will go to trial. That lets the insurance companies know that we take your case seriously and it leads to the best results
On the other hand, we also know that settlement is often in your best interest. We will work with you to find out what you and your family need, and we will work to achieve that goal.
WE ARE THE HELP YOU NEED. We will deal with the insurance company. Our priority is to make sure they get the information they need, but keep them from invading your privacy. If we get involved in your case, you will work directly with us and we will deal with everyone else.
We understand that this may be the first time you've ever been faced with this extraordinary set of circumstances and you may not know what to do next or who to turn to. We share the goal of getting your life back to normal as quickly as possible. We also want to give you a voice so that your concerns are heard, and responsible parties are held accountable. At Maher & Maher Law, we take pride in offering that peace of mind.
KINDS OF PERSONAL INJURY CASES
If you were injured in a car accident that wasn't your fault, we will work hard to get you the compensation you deserve for your injuries.
Being hit by an 18-wheeler big rig can cause serious injuries, if not death. We can help you fight back and get what you deserve.
Motorcycles have a right to be on the road! If you have been injured by a careless driver, we can help you recover full compensation.
If you've been injured on someone else's property, we will see to it that you get compensated to fullest extent for your injuries.
Workplace injuries can be caused by many things and we will fight to get what you deserve to get your life back on track.
The untimely death of a loved one can be devastating and debilitating but we can help you get the compensation your family needs for your future.
Brain injuries run the gamut from mild to severe but no matter the severity we will help get the compensation you deserve.
Insurance companies have laws and rules they must follow too. Our attorneys can assess if you may have a claim for bad faith against an insurance company.